Who we are…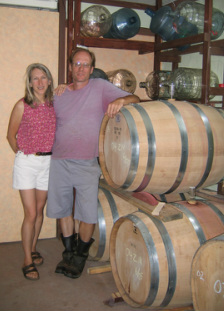 "Natural Wine" Specialists

We take pride in being an East Coast practitioner of "natural wine." From vineyard to barrel, and barrel to bottle, we seek to reduce the carbon footprint of our business, eliminate chemicals (especially sulfites), and do our best to avoid intervening in one of humankind's time-honored conspiracies with nature: transforming grape juice into beverages that advance social interaction by accompanying food. That's why the sign in tasting room that asks "What's for dinner?" means so much more.

This natural approach also extends to other agricultural activities on the farm that sustain owners Paul Roberts and Nadine Grabania, and their daughter.

In every part of the winemaking craft, we emphasize the low-tech or even the no-tech, while striving for craftsmanship and natural harmony. We have seen, since our founding in 1997, that once people understand artisanal winemaking, they will reject the industrial, "touristy," and crassly sweet.

Wines made in concert with nature delight the palate and are felt in the heart.

---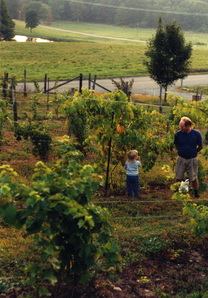 Visit Deep Creek, Mountain Maryland and the Laurel Highlands
Our winery and vineyard is on a steep hillside 20 miles from the nearest stoplight at the crossroads of a three-state outdoor recreation wonderland — just two hours from Pittsburgh, three hours from the Washington or Baltimore beltways, and a short day's drive from Philadelphia, New York, Richmond, or Charlotte. With so many residents of the East Coast seeking wines as well as vacation experiences closer to home, away from the urban hum, the Deep Creek region's popularity continues to grow.
Few areas of North America offer as many varied opportunities for hiking, camping, biking, kayaking, world-class white-water rafting and trout fishing, plus downhill and cross-country skiing — as well as just plain relaxing on the deck beside an alpine lake. Wilderness-rich Garrett County has one of the largest black bear populations in eastern America and is renowned as a bird-watchers' paradise. Yet, all the amenities of home are close at hand, too, with fine restaurants, shopping, and plenty of activities.
We are proud to have played a part in the 7-year campaign to protect beautiful Mountain Maryland from the
threat
of industrial shale gas development
(fracking)
. Thanks to the efforts of
Citizen Shale
and its partner organizations in the
Don't Frack Maryland
Coalition, as well as the work of principled legislators and countless groups and individuals across our state, in April, 2017, Maryland became the first state with harvest-able shale reserves to enact a legislative ban on fracking. For a highly-informative and powerfully-illustrated story contrasting the on-going negative impacts of fracking in neighboring Pennsylvania with unspoiled Garrett County, Maryland, please see
The Human Cost of Energy Production
. Along with our friends at
Backbone Food Farm
and former
Friendsville
Councilman Jesse Whittemore, Deep Creek Cellars was featured in this superb 2016 photo-documentary project by
Environmental Integrity Project
and the
International League of Conservation Photographers
.
---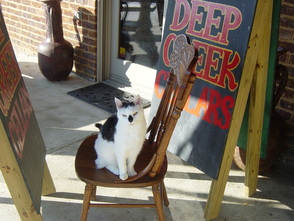 Wines of True Value
A rustic setting, however, does not mean plain wines. In an era when wine consumers seek more value than ever in the marketplace, most of our bottlings are snapped up by patrons returning to our tasting room or — thanks to the burgeoning interest in natural winemaking — at more and more stores and restaurants from Washington to New York City.
In 2011, sales off the premises surpassed winery sales for the first time. In our dedication to making wine in concert with nature, we claim membership in a mostly international movement renowned not for the stereotypic artifice and snobbery of the wine business, but, instead, for down-to-earth preferences. The modern natural wine movement began in Beaujolais, France, and we frequently use the same red-wine technique of "whole-berry fermentation" as the late Jules Chauvet. He is credited with starting the return to no-chemical viticulture and low-input enology in the 1970s. One of our movement's leading voices today, the Burgundian vigneron Philippe Pacalet, puts it this way: "In our modern epoch, when we consume more and more dead and artificial products which separate us from our true nature and affect our minds and our health, 'real wine' is a source of life bringing us equilibrium and resonance with ourselves, others, and our environment."
See the interview with Winemaker Paul Roberts, done for an upcoming film about natural wine producers
.
Considered a basic in natural winemaking, we do not fine our wines with animal by-products — they're always vegan-friendly; unlike nearly all American wineries, we do not filter wine to a state of sterility. The wine's "soul" and subtlety remain in-tact. (As a consequence, a harmless deposit may occur in some bottles during aging.)
---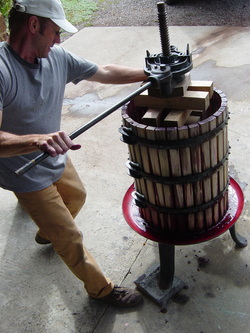 California Roots

Paul began his work in wine as an intern in 1986 at Chateau Montelena in the Napa Valley, where winemaker Bo Barrett (of Hollywood's Bottle-Shock fame) generously shared his knowledge and gave his apprentice a comprehensive experience. After this adventure, Paul channeled his background as a professional journalist into becoming a life-long scholar of wine and winemaking.

In the mid-1990s, after moving to Pittsburgh from California, Paul planted his first test vineyard — a half-acre of Norton (Cynthiana) — in Scenery Hill, Pa.

Frequent camping trips to the Forbes State Forest in Pennsylvania eventually brought us into contact with the nearby Deep Creek Lake area. We fell in love with the beauty of rural Mountain Maryland and the promise of sustainable living on a little hillside.

The land was purchased in 1996. The original 700 vines (mostly Cabernet Franc and Chardonnay) were planted in May 1997. Since then, the vineyard has grown to roughly 1,000 vines, still mostly Cabernet Franc, followed by Frontenac, with small quantities of Vidal, Vignoles, and Chardonnay.
Dedicated growers near Cumberland planted Pinots Noir, Blanc, and Gris expressly for our wines, with Italian varietals and Norton coming from a dedicated grower near Manchester, Md. We also regularly tap Pinot Noir from the Niagara Escarpment, near New York's Lake Ontario. Most years we produce two wines entirely from our estate-grown fruit; all told, we rely on approximately 3 acres of grapes to create about 10,000 bottles annually.

---
Precious Resources

Our preference for natural extends even to the packaging: we use recycled glass bottles without useless "decorative" plastic capsules, and plan a new line of fully reusable bottles with "swing-top" closures that eliminate the cork. Deep Creek Cellars is not only a winery: we are one small rural family trying to promote sustainable living with the land. We grow, or procure from the wild or local farmers, nearly all of our food, preserve for the winter, observe the dictates of the season's cycles, heat with firewood without cutting live trees, and, though it may to some sound trite, try in every way possible to lessen our demands on a maxed-out planet's resources.
---