Our Wines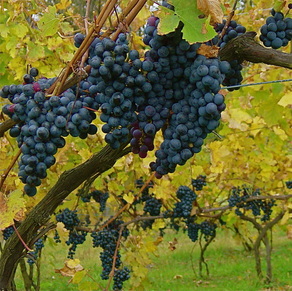 Wines for Knowledgeable and Adventurous Palates

Deep Creek wines are modeled on the rustic country wines of Europe. You'll find less oak aging, more floral bouquet, and more inviting fruit flavors than you may be accustomed to in most American wines. Many customers who arrive not liking dry wines leave with armfuls of ours. Even our wines that can improve with age are enjoyable upon release. (See Vintage Guide immediately following Current Releases.)

We use only traditional Old World techniques in the cellars: typically, wild yeasts on the grapes for fermentation supplied by nature, and natural cold-clarification. Deep Creek wines are pure, lively, and never overly manipulated. In an age when "hand-made" has become a widely abused claim, our wines are truly low-tech. We do not even own a filter, and use zero to minimal amounts of sulfite preservatives.

We've been saying for years that you really can't judge a wine until you invite it over for dinner, so below, please try our wines with foods we've figured out they go with best. You will not believe how beautifully they work with the easy to prepare meals listed below the Vintage Guide. Trust us, we do it every day! (Wine availability varies by season, so you may notice references to wines not listed.)

RETAILERS AND RESTAURANTEURS: Deep Creek Cellars wines are available throughout Maryland and in the District of Columbia, through Bacchus Importers, Baltimore, 410.633.0400, and in Illinois through Sensus distributing, 773.413.9466.
RETAIL CUSTOMERS: Ask your favorite store to stock our wines. Tell wine managers to order through wholesalers listed above. To ensure that the distributors and retailers who serve us can also make a living, and to avoid exposing our artisanal products to temperature extremes during transit, sorry, WE DON'T SHIP by mail.


---
Current Releases: Red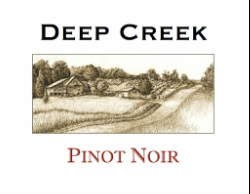 2015 PINOT NOIR
100% Pinot Noir. 12.5% alcohol.

Another textural study in Pinot Noir, the slippery smooth, even gulp-abble 2015 is reminiscent of the lovely 2011, with a sneaky complexity in the play of minerals, leather, flowers, and cherry-pomegranate flavors for a soft, satisfying finish. Again, this is NOT Sonoma Coast Pinot! Our red Burgundy-esque wines go more with slow-cooked pot roast and vegetables — think "comfort food" textures as well as flavor — than burgers on the grill. $18 in our Tasting Room (or two for $35)

Some 2014 Pinot is still in the retail marketplace, too. It's the most old-school Burgundian of all our Pinot releases: medium-bodied, velvety , lightly oaky. Everything is beautifully in order, with tidy cherry and pomegranate flavors and a full range of sweet spice and earthy aromas.

Winemaker's updated entry about the 2012 (May 2015): Now sold out, this Pinot Noir turned into very possibly the finest red wine I have ever made. A couple of times with meals this spring, after the wine had breathed for an hour or so during dinner, I felt I was in the presence of real greatness. My best wines have an almost indescribable bouquet, which even many connoisseurs will take for granted in a wine that sold for $23, but the '12 Pinot is so perfectly measured and balanced, yet also so decadent, that comparisons with red Burgundy costing several times as much are unavoidable.

Now, this lurches to the fully esoteric: the single adjective sometimes used to describe such wine is "ineffable," and I think it's fair to to say that experts would insist it occurs in great Pinot Noir appellations in France maybe more than anywhere else. So? People rightfully ask. And the answer is that the winemaker's job, if taken seriously, is to provide gustatory and intellectual pleasure.

Penetrating flavor and bouquet are very, very hard to accomplish without also creating excessive weightiness, and this happens to describe great Pinot-based wines well. Again, this is a characteristic of the sublime that only a few tasters really notice. If you prefer the knock-down power of, say, modern-day Napa Valley Cabernet, Sonoma Coast Pinot Noir, or expensive Australian Shiraz — that is not, as they say, a problem. Each to his own. I just prefer complex aromas with lots of "secondary" notes — floral and earthy, and "lighter" in general, rather than thick, tarry, and oaky.

I do not have encyclopedic experience with great Burgundy, so, after enjoying, collecting, and making wine for nearly 40 years, I have encountered "ineffable" only a few times. I did not make a note of every such experience. But the first was in 1984, and the wine was 1970 Chateau La Lagune (a "minor" Medoc at that time). Another was 1976 Ducru Beaucaillou. Another was 1981 Ridge Monte Bello from the Santa Cruz Mountains. Another was a Sonoma County Zinfandel of barely 12% alcohol made in about 1989 by Daniel Gehrs under his own label. My 2012 Pinot is one other.

---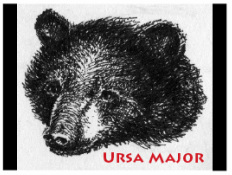 2015 URSA MAJOR
98% Norton. 2% Cabernet Franc
Unfiltered. 12.5% alcohol.
Ursa, named for the black bears
who roam our woods (occasionally in view for visitors), practically gushes with psychedelic elderberry, grape-jam, and red candy aromas. On the palate, there is lots of varietal spice/coffee/oak-accented flavor, yet also complete decorum — "practically gushes," after all, isn't gushing, and the waves of flavor, bouquet, and
texture
fall just short of showy. That's great "dirt" talking, friends (more below). A young, tart wine whirling like a top, but with tell-tale acidity in place, expect evolution for many years to come as the spinning slows to a celestial whole.
$22 (two for $35)
After 20 years pursuing a blended wine from this native American grape, Winemaker Paul Roberts,
who wrote
the book
about the cult variety,
finally settled into producing pure (or nearly pure) varietals from Norton. He is indebted to Chuck Mewshah at Birchview Vineyard in Carroll County for outstanding fruit: quartzite soils — classic white wine soil — deliver what may well be America's most distinctive Norton "claret."
---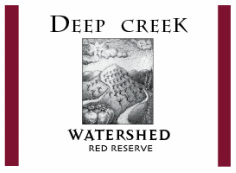 2015 WATERSHED RED RESERVE
98% Cabernet Franc, 2% Norton. Unfiltered. 12.5% alcohol.

In our 20th anniversary year, our top-selling wine, from the ancient Roman grape Cabernet Franc, might be said to strut its stuff, yet showiness is never part of the package here. Instead, we again deliver violets and pencil-shavings with Morello cherry flavors, but, due to the ideal growing conditions, with more depth than maybe any previous vintage. Focus-group tasters struggled to stop smelling, to actually taste! "Peach pits," said one. "Beef-steak tomato," said another. "Wait. What? Pine forest? Like you're IN a pine forest, drinking wine." It's a delight for the senses, and still just $20 (two for $35).


---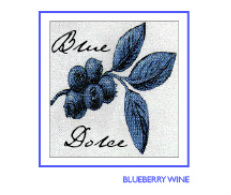 BLUE DOLCE (non-vintage)

Wildly popular, vivid blueberry dessert wine. Try it with good chocolate! $18/375 ML
---
Current Releases: White

2016 PINOT GRIS
80% Pinot Grigio, 15% Pinot Blanc, 5% Riesling. 12.5 % Alc./vol.

Aroma: white pepper and flowers, baked pears, candied apricot, and, well, rock, proceed along a somehow citrusy arc of flavors that are broad but oh…so… gentle, with a meringue-like lightness referencing Grand Cru Alsatian blends. Mouth-watering acidity is ever-present, yet this bone-dry wine finishes in a deep pool of fruit that almost but not-quite delivers pepper-laced sweetness. Produced from grapes grown mostly at Bear Hill Vineyard in Allegany County, Maryland. Enjoy with fancily prepared vegetables, pork, fish, chicken. $16

Fermented in small stainless steel barrels and aged sur lie for 10 months. Not filtered — so a deposit may develop.

"Glowingly ripe apricot and pear makes for an enticing nose. These notions become even fruitier and more honeyed
on the palate where they shine with ripeness and generosity. Beautifully bright and zesty lemon freshness counters
this and creates a dry lip-smacking finish that celebrates all that is ripe, rounded, and generous…." This
is Wine Enthusiast's December '17 review of Paul Blanck Furstentem Grand Cru Alsace Pinot Gris.

Sound familiar? And do note, please, that the Blanck wine is $38.

Every few years, an American wine magazine notices the astounding quality coming from Alsace. The latest summary
ranked all 29 wines reviewed at 90 points or higher, with one-third earning 94 or higher.

The similarity of our Pinot Gris to Alsatian examples is what got the winemaker hired to lead the wine tour along
the Rhine River next November (see home page, if you missed it).






---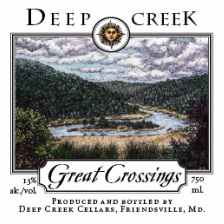 2015 GREAT CROSSINGS
65% Vidal, 35% Pinot Gris. Not filtered. 13% alcohol.

This nervy dry white with its almond, white pepper, and mineral aromas, and long-lasting pear/light citrus flavors consistently and unexpectedly shocks visitors in our tasting room. In 2014, it returns to its full-bodied form and, once again, represents tremendous value in distinctive East Coast viniculture.

One X factor with all of our whites is barrel-fermentation and sur lie aging (on the sediment). Typically, the juice for barrel-fermented whites is settled overnight, then pumped off the thick sediment before fermentation. But we gain flavor and texture by crushing the grapes and pressing straight into small stainless barrels; when fermentation ends, the wine clarifies naturally on these "gross" lees. (Attention, wine geeks: a mix of native with commercial yeast, no oak, no lees-stirring.) The result is creamy complexity, but without oaky tones that would easily over-power delicate flavors, and lovely softness in tension with natural acidity. And, BTW, unfiltered white wines in America can be counted on a couple of hands. Expect a natural deposit in the bottle as the wine ages. $15

"Great Crossings" is an historical reference. On the Youghiogheny River (YAHK-AH-GAIN-EE), just over the ridge from Deep Creek Cellars, is a crossing spot along an "Indian trail" used by native people and, after the mid-1700s, by European military officers and settlers. The federal government chose the location for its Great Crossings Bridge, a double-arch of local stone finished in 1818 near the old town of Somerfield (both bridge and town now lie under Youghiogheny Reservoir). Modern scholarly texts attribute the ford's name to its use by British General Forbes, U.S. General Washington, and other famous figures in frontier history. However, in researching the bridge for our label, we found evidence that the native people, for generations before white men arrived, valued the pinch in the river with its island breaking up a shallow channel. Despite white Americans' general preference for hubris, doesn't the Delawares' likely reference to "a great crossing" — as in "long-established" or "important," on a trail they blazed long before any generals — suggest the original source for the name?

Deep Creek co-proprietor Nadine Grabania, who made all the drawings for our labels, used a variety of old images as well as her own photographic studies of the current landscape to create an original work of pen and paint that depicts the grandeur of the valley of the Youghiogheny at its most famous crossing. A modern concrete bridge now carries U.S. 40 across this spot in Pennsylvania, but the original Somerfield bridge can be seen sometimes (usually in mid-winter) when the Army Corps of Engineers allows the water in the Youghiogheny Reservoir to fall to a very low level. Because animals came before us to the Eastern woodlands, and human footpaths often follow their trails, the artist depicted a deer—possibly the earliest travelers to use the crossing—coming to the edge of the Yough to drink.

---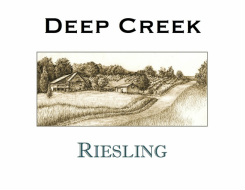 2016 RIESLING COMING SOON!
100% Riesling. Unfiltered. 12% alcohol.

Notes on the 2015: Ashley Harrison-Malloy at Eden Mill Vineyards near Woodbine, Md., planted this patch of Riesling for us in 2010. In the tasting room, we are finding that most people have not tasted a truly dry, Rheingau-style Riesling. It's really an exhilarating experience: as minerally as it its floral, and truly refreshing — absolutely playful — it could quickly become your hot summer weather favorite. Its versatility with food is unmatched, with a rain water-like purity and, in the warm 2015 vintage, a Chardonnay-like richness. Finger Lakes wines are trail-blazing in the U.S. with this style, and ours is right "there," full of finesse and so easy to enjoy. $19
---
Sweet Dessert Wines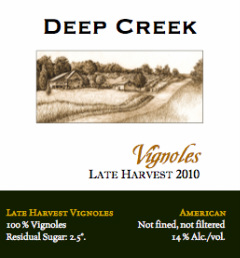 2010 VIGNOLES —Sorry, Sold Out!
100% Vignoles. Unfiltered. 14% alcohol.

A staggeringly complex aroma of pineapple, pink grapefruit, flowers, and baked apples, with a long finish greet those looking for a slightly sweet white wine. This is how the old world makes such wines: from grapes raisin-ed by a natural, special fungus, so the sweetness is for real — not added. Our replacement for Yellow Jacket White, though the quality puts it in a whole different category. Enjoyable as an aperitif, or with certain desserts, especially your favorite cheesecake. A few cases of this monumental wine in 500 ML remain in the tasting room and, undoubtedly, in the 375 ML package that was sold in stores for several years. It will age a long, long time. $35/500 ML



---
Deep Creek Cellars Vintage Guide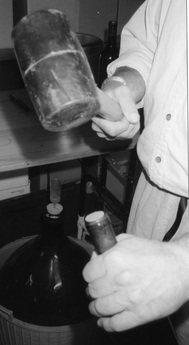 Back to Our Start — Vintage Comments & Recommendations

1997-2003
During this period, we used almost entirely grapes from California, as our vineyard matured and we developed regional grapes sources. Occasionally a customer shows up at the tasting room with a wine made during these years and, voila!, they can be very good. But predictability is the issue. Drink up!

2004
Our first Ursa Major vintage, predominately from Norton grapes grown near Middleburg, Va. Last tasted Oct. 2012: delicious still, well-balanced, capable of further aging; Watershed Red, from Cabernet Franc from Washington County, Md., was light-bodied in this unremarkable year, with rain at harvest.

2005
Excellent growing season, with perfect Autumn ripening weather, produced our first classic Watershed (again Wash. Co. Cab Franc, plus some from northern Virginia) that, when last tasted in May 2012, was gorgeous and perfectly mature (about 90 if Parker had the sense to rate it!), with varietal pencil-shavings on the nose, a fantastic lively bounce, subdued oak influence, and brooding fruit flavors. Ursa Major was lighter than 2004, with more elderberry-type, Jolly Rancher-grape Norton flavors, very good, but without great aging potential.

2006
Rainy year, throughout the season and at harvest, made light wines without aging potential.

2007
Similar, if slightly less successful than 2005. V.G. Watershed and Ursa capable of improving with age (thru 2015). A friend unearthed in 2013 a 2007 White Linen Reserve, our first Vidal-based premium blend (Maryland-grown Vidal with northern Virginia Chardonnay, aged sur lie, unfiltered); rustic, full-bodied, full of life — a go-er! People should be so lucky to have a few lying around, presumed — being white — that they're over the hill.

---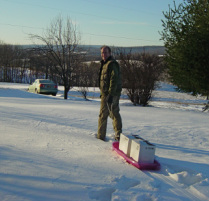 2008
Similar to '06 — light wines, rainy year. Ursa showed well in a 2012 tasting, but drink up.

2009
Excellent vintage, along the lines of '05 and '07. Watershed tasted in Spring 2013 perhaps capable of further evolution, though not as good as '07. Ursa — not so much, difficult harvest conditions at end of season; small release. Fantastic Great Crossings: first vintage of re-named White Linen-model wine but with Carroll County-grown Pinot Gris subbing for Chardonnay; one customer covets his remaining case (late 2013). Tasted Jan. 2014: still evolving, plenty of fruit and acidity to go and go. Late-Harvest Vignoles also keeps going and going. Auslese-level sweetness originally, now almost dry with age; honey, apricot, and bees-wax complexity. Also misunderstood, Sauternes-comparable.

2010
Two in a row, yes! Tuscan-like Fall, on par or slightly ahead of '05, and definitely of '07. Watershed from first crop at Bear Hill in Allegany shows amazing potential, though greatly reduced in quantity due to late Spring frost. Will improve for years. First year for Pinot Noir — both Niagara and Bear Hill Reserve are top-flight, with excellent aging potential through the two thousand-teens. Ursa oaky and long-lived; check back in five years.

---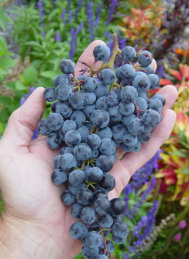 2011
Memorial Day hail storm wipe-out at Bear Hill. Beautiful, svelte Niagara Pinot, classically proportioned and misunderstood by most American Pinot drinkers — it's earthy and tastes like fruit rather than wood!; but not for aging. Small Watershed harvest, average quality only due to rain all season. First Quail Vineyard Barbera shows promise in a challenging, rainy vintage. Frontenac-based Nouveau very successful (sold in New York only).

2012
First Bear Hill Dolcetto — utterly Piedmontese-delicious, though not for aging. Pinot Blanc from Bear Hill is awesome, with lean, mineral-dipped fruitiness. Reds have turned out (Summer 2015) to be among our finest ever, following earlier uncertainty due to the oddity of the hyper-long vintage. Both Pinot Noir and Watershed rank near the top of the 160+ commercial wines produced at Deep Creek Cellars since 1997, and for many years to come will delight anyone who stashed some away. The Great Crossings is also a stand-out, having reached maturity early in 2015.

2013
Wines from this moisture-rich year, with a thankfully sunny opening at harvest, are just being released in 2015. It's an easy-drinking vintage, perhaps similar to 2011, with pretty flavors meant for early enjoyment.

2014
This turned out to be a somewhat indifferent vintage. Watershed continues to delight, and we look forward to holding a few for the usual 6 to 8 years after vintage. (A 2005 Watershed, from a similarly excellent vintage, was pure heaven for Winter Solstice 2014.) The aromatic complexity of the '14 is outstanding. Ursa may take 10+ years to be in top condition. Like many Italian reds, our Norton ages well due to its high natural acidity, and aging gradually transforms the whacky red-candy flavors and elderberry notes into a profoundly interesting experience. The wine somehow gains body and texture with age. The '14 whites, now gone, were solid. The most "expressive" grape in our stable, Pinot Noir, in this almost picture-perfect growing season, is the lightest-bodied of our five Pinot vintages. It, too, has nice aromatics — probably best enjoyed young. Don't expect major gains in the cellar.


---
Wine and Food Pairings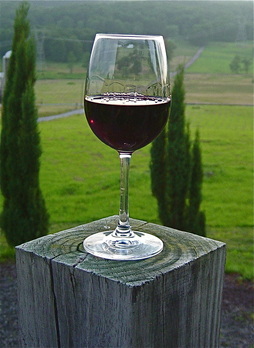 BEEF TO EAT WITH A SPOON
This is basic country, slow-cooked beef, though we learned the recipe from a de Medici who was proprietor at Castello di Volpaia in Chianti. That is, we saw her do it in about 1990 on public television!

Use lean arm, chuck, or round bone-in roast for the best flavors. Cook in the stove (300 degrees) or on stove-top, depending whether you want the heat for the house or not. As for the wine, there is something about the classic pencil-shavings smell of our Watershed Red (from Cabernet Franc) that accentuates the aromas and flavors of this beef dish. Deep Creek Pinot Noir is also gorgeous with this.

A 4 oz. serving of meat per person is what nutritional and cholesterol estimates are based on, but in practice most people want a little more. Selecting lean-enough cuts up-front is best — lean enough that you don't need to ladle off any fat during cooking. In a large pan suitable for roasting, begin by searing the beef on one side in cooking oil on stove-top. (This browned side makes a more appetizing presentation.) Drain off grease. Add about 20 oz. of good red wine and, barely simmering, let cook, covered, for at least three hours. Careful the wine doesn't cook away, which may happen if you don't have a tight seal on the pan. When perfectly cooked, the meat pulls easily off the bone with a spoon and the wine is mostly gone, giving the seared side of the meat a browned, succulent appearance.

When to add your favorite vegetables depends on how soft you like them. Apparently the de Medici's like them really soft, while we prefer them more firm. For that: add small or new potatoes 1 hour before serving, then onions, garlic, carrots and other root vegetables such as leeks and parsnips about 40 minutes out. Kale, spinach, or fresh or canned green beans near the end of cooking are nice, too, for adding color as well as flavor. A little tomato, canned or fresh, is nice, but we lean away from a lot of tomato flavor here, which tends to compete with the earthiness of the other ingredients. Remember that some veggies contain more water than others. Season sauce to taste, and let rest, still covered, for at least 15 minutes. Re-heat and replace lost moisture in sauce with water and/or more wine. Arrange beef, with vegetables splayed out beside, in a shallow bowl or on plate. Add sauce to preference. Sprinkle with chopped fresh drill, if you have it. Using a fork is permissible. But forgetting good bread isn't; you'll need it for cleaning the plate.

---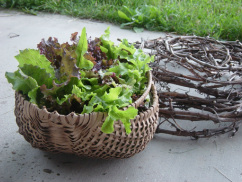 COUNTRY EGGS WITH SHOESTRING POTATOES
This simple comfort food seems perfect for a blustery, winter night when the warmth of the stove feels good in the kitchen. Don't forget to look out the steamed windows to check for snow.

We find that non-russet potatoes work better, but good all-purpose potatoes large enough for making long strips can be hard to find in supermarkets. Home-garden potato varieties such as Kennebec, which usually have superior moisture content, are best. As for store-bought, large red potatoes are probably best.

Slice potatoes into long strips, as thin as you can (approx. 1/8-inch squarish "columns"; kitchen devices probably exist to create perfect shoestring potatoes, though we like the rustic quality of hand-cut). Toss raw potatoes in enough vegetable oil to prevent sticking, add salt and pepper, and broil on a cookie sheet till brown. Turn and do other side, to get them uniformly browned. Fry one or two eggs per person, sunny-side up. (Remember a free-range egg has half the cholesterol of a commercial egg, which contains about 65 percent of your daily allowance, so two free-range eggs is really no problem for most healthy people.) Arrange eggs on the potatoes on the cookie sheet. Top eggs with a low-moisture melting cheese such as Gruyere or sharp Swiss, and broil until cheese is brown — not too long. (The eggs should still run when forked.) Sprinkle with parsley and serve with a side vegetable or salad. This is an absolutely perfect match for the crisp but slightly sweet Vignoles, though dry Pinot Blanc, Great Crossings or Cumulus are also fine and less-alcoholic.

ROASTED CHICKEN BREAST
So basic, so rustic, with aromas that complement the herbal overtones of Watershed Red Reserve. Figure one breast portion with attached wing per person — give or take. Organic or kosher chicken is good out of the package, but standard commercial bird, if you must use it, is much juicier after soaking in the refrigerator overnight in brine (1/3c salt per quart of water); avoid boned chicken breasts, which tend to be too dry for roasting. Preheat oven to 425F. Rinse chicken thoroughly and pat dry. On stove-top, in heavy oven-worthy, deep-sided fry pan, brown both sides of breasts on medium-high heat, using a little olive oil if needed. Drain fat and juices from pan, then place in hot oven. Roast about 40 minutes, draining liquid once but retaining all in last 15 minutes.

The golden chicken is done when pierced and juice runs clear. Right before serving, sprinkle with coarse sea salt, pepper, fennel seed, rosemary, parsley, dill, or other herbs of choice, and add a liberal shot of wine vinegar, plus a little more. Combine with a little Watershed to make enough sauce for drizzling over all the chicken pieces on their plates. Especially fine with roasted carrots and potato wedges, bread, and fresh salad.

---

ARTISAN PIZZA
The crust is the key, of course, and a good quality double-layer aluminum cookie sheet helps a lot with this dough from the French port city of Marseilles: To make 4 personal-sized thin-crust pizzas, combine 2 cups high-gluten flour with 1.5c unbleached bread flour (or all high-gluten, if you prefer the crust extra hefty), pinch of salt, and 1 Tablespoon yeast. Add scant 1c warm water and combine. Knead about 5 minutes, until dough has a glossy, non-tacky texture (better a little dry than too wet). Cover with a breathable towel and let rise in a warm place for about 2 hours, or until doubled. Plop dough onto flat surface and divide into four balls. Adjust texture as needed with a little water or flour. Then roll flat, 1/2-inch thick. Don't worry about ragged edges, or round shapes, but try to roll to a uniform thickness. Sprinkle cookie sheet with corn meal to prevent sticking, and place flattened dough on sheet. Let rise again in warm spot, about 20 minutes, until doubled. Pre-heat oven to 450F. Top each pizza as you please (we love black olives with fennel seed, and anchovy or sardine), but not so thickly as to disrupt cooking, and bake until cheese and crust are golden, about 20 minutes, rotating pans in oven at least twice. Dolcetto, Barbera, or Pinot Grigio, please.

GRILLED SQUID WITH POTATO
Learned from a Portuguese restaurant in Toronto, this is a tour de force of simple yet fantastic flavors.

Fresh squid is the ultimate, but frozen squid tubes will work, as the dish relies on strong grilled flavors for much of its pizzaz. One pound of fresh squid, cleaned and de-beaked, is about right for three people. And don't forget the tentacles for a wild, rustic presentation — guaranteed especially to improve any drab winter evening nice enough for outdoor cooking. Lemon and smoke flavors, and the rich textures, marry perfectly with the acidity and complexity of Great Crossings or Pinot Blanc.

Peel and steam all-purpose potatoes large enough to hold together during slicing after they're done. Careful not to overcook potatoes so they crumble. Make a small but hot charcoal fire and grill the squid tubes, no more than 2 minutes per side, basting with olive oil — long enough to impart grill marks on the flesh. Let cool, then slice into thick rings and set aside. In a large stove-top pan, slice steamed potatoes with diced onion, garlic, salt and pepper. Thoroughly wash 1 lemon per person and slice each into three or four thick circular hunks, discarding bitter ends. Add to potatoes. Finally: the sauce can be made many ways and should be almost soup-like in quantity. Left-over chicken stock is great; so is a small bottle of clam juice. Otherwise, 2 T butter or olive oil, 1/2-tin of anchovy, water and white wine will work, or any combination thereof. Add 1 or 2 bay leaves, fennel seed, and season further to taste. A little saffron is nice, but this is not paella; it's tempting to add other seafood, but the goal is an interplay between the delicate, rubbery squid flesh, lemon, and the chalky potato. Combine all ingredients before allowing sauce to simmer, as you want everything good and hot but the potatoes intact. Cover, simmer for about 10 minutes, then remove from heat. Still covered, let cool for at least 15 minutes. (The flavors become more saturated the longer the sauce cools.) Then add tentacles and sliced squid tubes, chopped parsley, re-heat to simmer for 2 to 3 minutes. Put out the olive oil and additional lemon wedges to be squeezed into dish at table. Arranging the squid, lemon, and potatoes in a spiral on the plate is pretty, as the shapes and colors are all in the same family, with only parsley and grill marks for contrast. Add sauce to cover, and serve with salad and bread.

---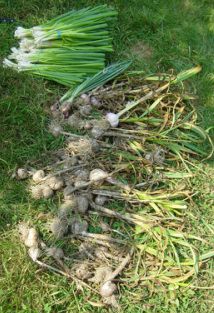 CHICKEN PARISIAN
Paul had this dish many years ago in Paris, and this delicious, instantly memorable meal remains one of our family's favorite and fastest gourmet quickies. The simple but sophisticated layers of flavor team beautifully with Great Crossings, Pinot Blanc, or Cumulus. Dry oaky white wines are also good, as the sauce is full-bodied.

De-bone one large chicken breast per person. (Remember, standard chicken should be brined overnight. Bone-in breasts have better flavor and texture, as do organic, kosher, and free-range; since the chicken is so central, better quality is really obvious.) Remove the skin if you prefer, and the breast "tender," to make the fillet lay flat. Arrange in a baking dish. Season with salt, pepper, and ground cumin. In this order, top with 1) a slice of naturally cured pork such as prosciutto or similar Spanish ham (a little lean pork sausage will even suffice, but avoid deli ham as it's too salty and lacks subtlety); 2) a leaf or two of coarse greens such as kale, chard, or spinach; and 3) a generous slice of nutty-flavored melting cheese such as Gruyere (aka Comté from France), or even a sharp American swiss. Toss a bay leaf into the dish, cover, and bake for about 40 minutes, draining (and saving) the juices regularly so that the breast isn't "poached" but remains juicy. Put under a broiler for a moment if you want the cheese a little crispy, but don't over-do it and dry out the stack. Plate, and quickly deglaze the cooking dish with the reserved juices and enough dry white wine to pour over all the chicken. Serve with steamed new potatoes and, if you like, an earthy veggie such as brussel sprouts, carrots, or braised kale and/or a big salad with crusty bread.

APPALACHIAN BOUILLABASE
This satisfying dish is downright "traditional" with our white or rosé wines. Whichever you prefer, just use that wine in the soup! This one beats out even chicken soup as a comfort-food fave in our domain, and though inexpensive frozen fish can be used, fresh is certainly tastier. Beyond that, French authorities insist that a proper bouillabase must contain tomato, parsley, white or pink wine, and olive oil. To serve four, use about 1 pound pollock, haddock, or other white fish, cut into bite-sized pieces. (Multiple species of fish add complexity, but, candidly, no farmed fish is very healthy, and ditto for much large wild-caught such as tuna or marlin.) In a large stock pan, add to the fish 1 can water-packed sardines and its liquid, and, if you like, some sort of shellfish. (Crayfish, squid, or clams can go in with the other fish, but shrimp should be cooked only about 3 minutes at the very end to preserve their delicate texture.)

Whichever, from there go with your preferred veggies, chopping enough carrots, onions, leeks, celery, parsnips — whatever is on hand — with potatoes and parsley, to fill the pot for four. (Purely for aesthetics, we avoid bright green vegetables that compete with pretty parsley in the steaming bowl.) Add about one-half bottle of wine, salt, pepper, fennel seed, bayleaf, plus a couple of good "glug-glugs" of olive oil, fresh or canned tomatoes, and enough water to cover. Boil for 20 minutes, then simmer for as long as you like, allowing to cool before serving. And whatever you do, don't forget good bread or the chabrol at the end: the peasant touch of adding a dollop of wine to the last dregs of the soup to finish.

---