PLEASE NOTE: Deep Creek Cellars will be CLOSED TODAY, Thursday, November 9, in order to complete the last of our seasonal wine-making work. We're sorry for any inconvenience. Please contact 301.746.4349 with concerns or questions. We will resume normal operating hours tomorrow, Friday, November 10, 2017. Thanks!

Planning an Autumn Getaway in
Mountain Maryland?

We're Open Thursday, Friday, Saturday until November 25! (Please call ahead for reservations for groups of 5 or more!)

And, Just Arrived!
More Novelties at Deep Creek's Most Unusual Gift Shop
No, NOT from Paul Manafort's
Emergency Garage Sale!
But yes, Russian — Soviet-era, actually, though never used — from the winemaker's collection of vintage enamel cookware for sale in "Cast-Iron Corner" in the winery tasting room gift shop. Besides unique Russian ovens, it's all Le Creuset, Descoware, Dru Holland, and other designer European brands — all at bargain prices.
Deep Creek on the Rhine! Join Us for a Tour on the World's Most Famous Wine River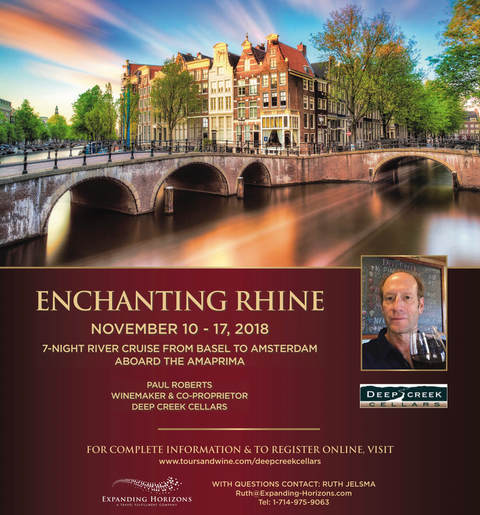 The Deep Creek Cellars team is working with Expanding Horizons of southern California on the winery's first-ever wine tour, next year, Nov. 10-17, 2018, from Basel, Switzerland, to Amsterdam.
Interested in coming along?
www.toursandwine.com/deepcreekcellars
.
White the Rhine is best-known for passing through some of Germany's great Riesling vineyards, Winemaker Paul Roberts is especially thrilled to lead this exploration of the great dry wines along the route in France's Alsace region. He has long considered such white wines his model. "The sensational, soft texture and firm acidity from the noble Pinots set Alsatian wines apart," Paul comments. "Most New World whites fall short of Alsace's pure flavors and sinewy complexity. And, while I try to emulate them, I also want to put a unique stamp on every vintage."
The luxurious
Amaprima
is one of Europe's newest, most renowned cruise ships, and Expanding Horizons specializes in tours for wine lovers. Enjoy breath-taking views and unique cultural opportunities, as well as all-inclusive gourmet dining and wine-themed events, including private vineyard tours. Before the 7-day cruise, take advantage of a 4-day mini-tour of Switzerland, from Zurich to Lucerne at the foot of the Alps. Hurry! Take advantage of special discounts if you book before Dec. 31, 2017. And don't hesitate to ask about the trip when visiting the winery.
---
---
Wines made by hand that speak to the heart and mind…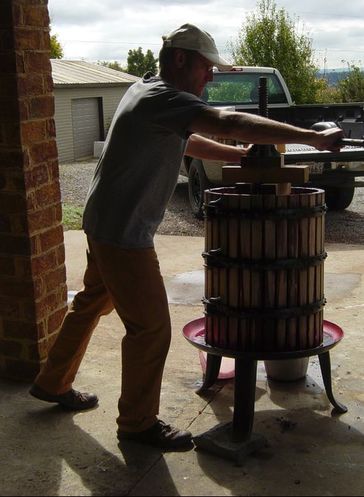 We are a small winery in the mountains of western Maryland emphasizing wines made from grapes that reflect their soil and site, mostly dry in style and meant to pair with good food. The winery is located near major mid-Atlantic tourism destinations: Maryland's Deep Creek Lake and the scenic Laurel Highlands of Pennsylvania. In our own vineyards, we use sustainable farming practices for "natural wine-making" — relying on wild yeast fermentation and no filtering. Many of our bottlings contain no sulfites. We make similarly low-tech wines from grapes grown in other Maryland climate zones: classic red and white Pinot and Cabernet Franc from a limestone ridge-top near Cumberland, unique native American Norton from quartz-rich soils in Carroll County, and spectacular dry Riesling from clay-over-limestone in Howard County. A little-known facts is that we are emerging as one of the few Mid-Atlantic Pinot Noir specialists.

Our wines are sold in the best shops (and in a few fine restaurants) in Maryland, the District of Columbia, and in some vintages, in New York City and Chicago.

When visiting Maryland's popular mountain vacation-land, husband and wife team Paul Roberts and Nadine Grabania invite you to plan a stop at their boutique winery. Deep Creek Cellars is unusual among Eastern U.S. wineries in that it is not primarily an entertainment venue; rather than soft-rock, chili cook-offs, and sugary wine confections, our focus is crafting fine wines for adventurous and worldly palates. We like to say: we make wine like most of the world drinks.


---